list of lists: history of women's undergarments
If you are interested in togging yourself out to a specific era, there are patterns (old and newer), blogs, on-line stores, of course, etsy and e-bay to fill your wardrobe. If you dig a little deeper, you might find what went on, or didn't, under those clothes.
Therese ONeill, 7 Things Historical Women Wore Under Their Skirts, Mental Floss, August 2017
Rebecca Deczynski, A Brief Evolution of Underwear, Good Housekeeping, August 5, 2014
Sarah, Lindig, The Evolution of Lingerie, Elle. com, July 20, 2016
Lindsey Barker, The revealing history of underwear, BBC Culture, April 15, 2016
Victoria & Albert Museum, Inside the Undressed: A Brief History of Underwear
Mary Beth Breckenridge, Museum gets beneath the history of women's undergarments, Akron Beacon Journal, October 10, 2014 (as posted by the Chicago Tribune)
Everyman's Theater, A History of Women's Undergarments, October 6, 2017
Historical Sewing, Are you Wearing Your Chemise Wrong?, posted January 9, 2014
David A. Fryxel, The Revealing History of Underwear, Family Tree Magazine
If you would like to try your hand at making your own historic "unmentionables," there are lots of sewing and costuming sites offering up patterns. Here is a sampling from Simplicity.
Item# 1139: Misses' Civil War Undergarments
Item# EA363501
"Get the appropriate undergarments for your historical highland costumes with this 18th century undergarments pattern. Pattern includes chemise, bum pad, and lined corset."
My mother made my clothes growing up (no, we bought my underwear at the store). I remember going to fabric stores and sewing departments within department stores. I remember pattern companies such as Simplicity, Butterick, McCalls and Vogue. When I went out first-time full-time job hunting, my mother made me a three piece suit (jacket, vest, and skirt) from camel-coloured wool. Later, in the early 1980s, this was the last dress my mother made me: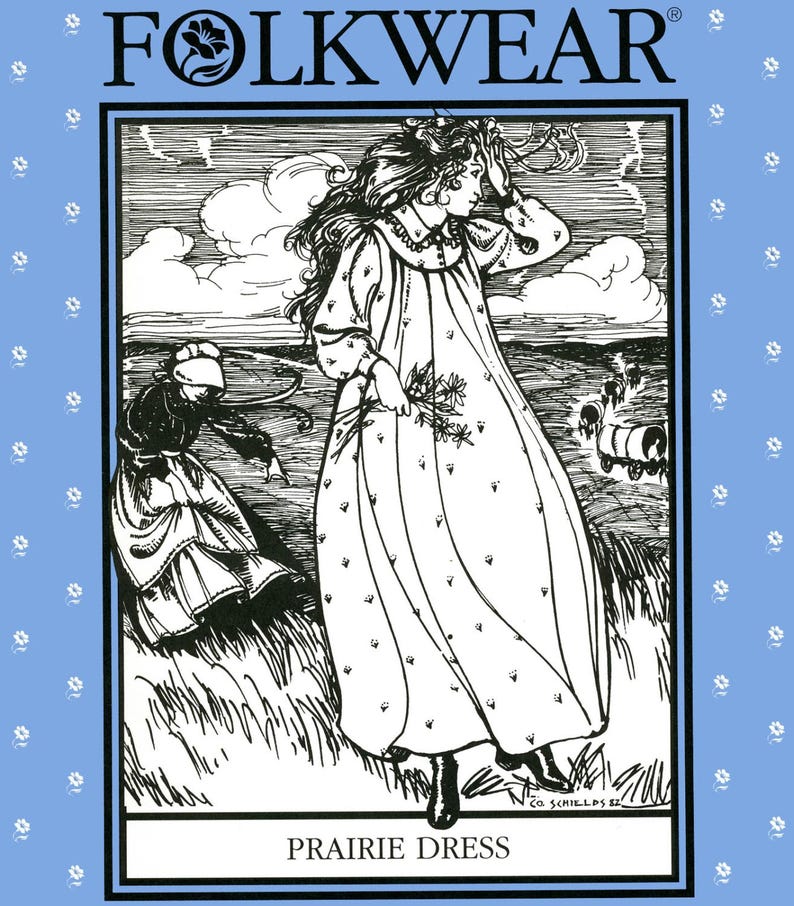 We stylized it a bit, and I had an eyelet plain pinafore to go with it. The fabric was cotton; white with tiny grey flowers. I only parted with it a few years ago.
After my explorations for this post, perhaps I should have requested these
Folkwear
patterns instead:
"Three charming "unmentionables" from the Edwardian bride's trousseau. The camisole, petticoat, and drawers make lovely undergarments or the prettiest summer outerwear."
or this:
Interest in women's period clothing ebbs and flows with what's "hot" in terms of historical/costume drama/romance. This is just a short, write outta my head list: Outlander; Downtown Abbey; Poldark; Victoria; Upstairs/Downstairs, various versions of Jane Austin novel's such as Pride and Prejudice and most recently Emma. The super-stylized (fashion-forwarded) Bridgerton, excursions into Tudor England, the wives of Henry VIII, Versailles, Civil War Era United States (Little Women, North and South, Lincoln).  The American West (Little House on the Prairie, the list is much longer), Prince Edward Island's Ann of Green Gables in many productions. Big budget pictures such as Barry Lindon, Gone with the Wind, and other Hollywood explorations of the past. Not to mention how fantasy and fairytale themes resonate with medieval and renaissance clothing styles (plus renaissance fairs, and larp (live-action role playing)). Not all the costuming is accurate; but one thing is for sure — women's undergarments were there — sometimes in the picture; sometimes out of sight.
feature image: library of congress